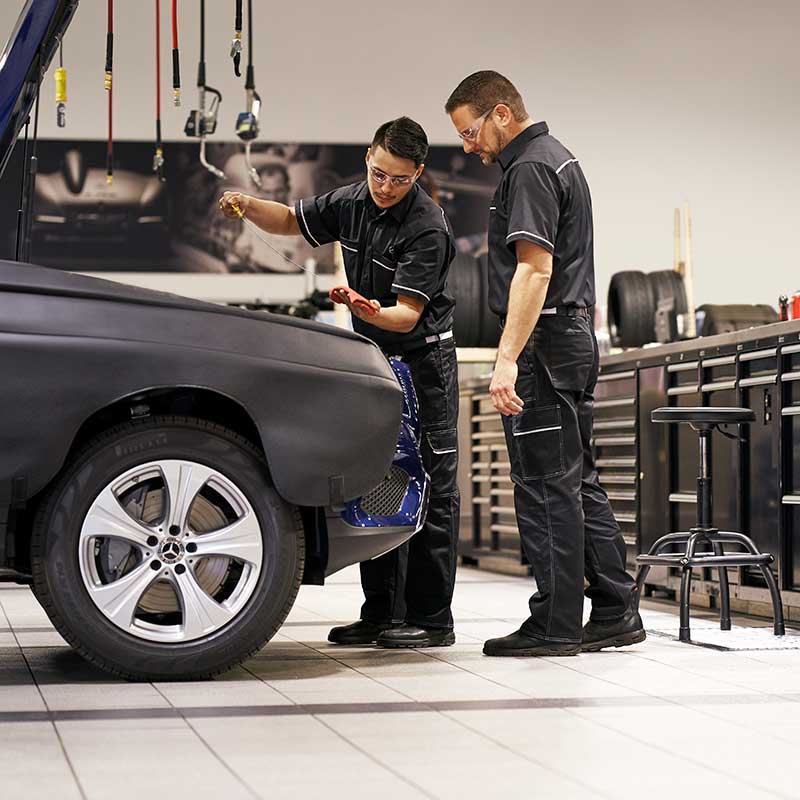 Even if you didn't buy a Mercedes-Benz from us, we want to help you keep it in great shape. Get to know our Mercedes-Benz service center and what we can do for you when you visit Mercedes-Benz of Asheville.
Q: What types of maintenance do you offer?
A: Whatever type of service you need for your car, we can supply it. This includes routine services like:
Oil changes
Filter replacements
Tire rotations
Multi-point inspections
Battery checks
Fluid top-offs
Wheel alignments
Plus, if you need a repair or replacement for your air conditioning, transmission, brakes, or anything else, we can take care of that as well.
Q: How knowledgeable are your technicians?
A: When you bring your Mercedes-Benz to our service center, you can rest easy knowing that it will be in the hands of Centralized Diagnostic Technicians. These experts have undergone extensive training, allowing them to not only figure out what's wrong with your vehicle, but also identify potential future issues as well.
Q: Do you offer financing for service?
A: We understand that certain repairs can be expensive, which is why we offer financing as an option. This will let you borrow the money you need to get your car fixed up and back on the road and then pay off your loan over time.
Q: Do you have any service offers?
A: We always have service offers for things like brake work, oil changes, or new batteries. These change regularly, so be sure to check out our website to see how you can save.
To keep your Mercedes-Benz running for years to come, you can't forget about service. If your car is due for maintenance, make an appointment with our service center at Mercedes-Benz of Asheville.